Quay County On The Move
Quay County On The Move is a joint initiative of the Quay County Extension Service and Quay County Health Council with funding from Presbyterian Health Care Services. A committee of volunteers work to promote and provide fitness activities in Quay County New Mexico. This committee meets monthly on the second Thursday at 9:30 in room A-219 at Mesalands Community College. Anyone interested in helping with the planning is welcome to attend. Activities are designed to encourage families of all ages to increase their physical activity.
Events and Activities
First Saturday Walks
Quay County on the Move is hosting 1st Saturday Walks at 8:00 am on the 1st Saturday of each month. Walks will be held at Dunn Park. The walks are free and everyone who registers receives a prize. We will be walking with different professionals each month.
July will be Medical Providers August will be Police Officers
Step Into Spring Challenge 2018
2018 Step Into Spring Challenge Awards
We had 102 people sign up for the challenge and are excited about how many people participated. 86 entered steps into the program. We hope that you will join us for other activities hosted by Quay County On The Move
This year the competition was tough, average steps among our winners was approximately 40 percent higher than last year.
Individual Winners are:
Most steps for individuals on a team
3rd - Billie Biggers with 1,421,603
2nd - Nicole Manley with 1,625,022
1st - Lynda Sills with 2,026,816
Most Steps for individuals not on a team. These people have more of a challenge because they do not have teammates to motivate them. These people more than doubled the amount of steps from the winners last year.
3rd - Darla Alarcon with 478,062
2nd - Gail Balzano with 548,535
1st - Scott Marquart with 790,393
Most Improved Steps
This person consistently moved up the leader board throughout the challenge. Moving an average of 6.6 places per week making it from 49th to 15th The most improve winner is Martha Stephens.
There were 17 teams with more than 1 person on them
Team Awards: Step counts are averaged so that different size teams can compete.
With an average step count of 657,592 the 3rd place team is 4K Lawn Care - Kyle Griffiths, Kristen Griffiths, Kale Griffiths, and Anna Zamora
2nd place team was Team Blue with a step count of 713,769 - Nicole Manley, Billie Biggers, Daniel Vargas, Josie Abeyta, Jodee Vargas, Victoria Harb, Christina Hyslop, Beverly Harb, and Emma Gutierrez
1st Team Walkabout - Lynda Sills, Arya Bogart had a step count of 1,298,300
If you missed the awards program, stop by the Extension Office to pick up your award. Everyone who participated received a medal for taking a giant step toward better health.
Walking Scavenger Hunt
Here is a fun opportunity for you and your family. Visit the listed walking routes and follow the path on the route sign. Take a picture of the items on the list and bring your completed list the Extension Office for a prize. If you are on the rail trail, the objects are in order from the beginning of the route to the end. The other routes can be done in any order.
Find a Motivational Rock
Over 50 painted rocks with the #QuayCountyOnTheMove on the back were painted and hidden along the walking routes and in town by Tucumcari FFA Students. Find one of these rocks and bring it to the Extension Office for a prize. You can then post a photo on social media and hide it again for someone else to find.
Safe Walking Routes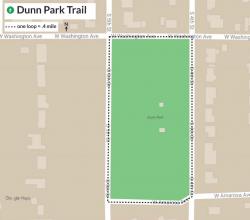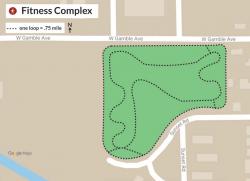 This Downtown Walking Trail is Approximately 2 miles
Park and start at the Railroad Depot. Walk South on 2nd street to Main cross to South side of street. Head West on Main to 3rd. Head South on 3rd to High Street. Head East on High Street to 2nd Street and Turn Right pass the Library, past the mural. Turn left (East) on Route 66 and cross at the light. Turn East on Adams Street and head North past the Dinosaur museum Historical museum, and Dream Catcher Hospitality House to Main Street. Turn West on Main Street. Cross 1st street and head to 2nd street. Turn South on 2nd past the mural and Stop at Aber. Cross to the West side of the street and head back North to the train depot past the new park. End at the train depot. Tourist could take side trips to see the parks, church, city hall, or mural on Aber.